William T. Vollmann
William T. Vollmann was born in 1959 in Los Angeles, California, and acquired cult status via his reportage from a world gone wrong: the Taliban in Afghanistan, the opium kings in Burma, snipers in Sarajevo, underage prostitutes in the brothels of Bangkok, the narco-thugs of Bogotá's barrios, and most intimately, the denizens of the crack hotels, bars and massage parlors of San Francisco's Tenderloin. 'When he tried to kiss her, she pulled away. So he kissed her again and spat into her desperate mouth.'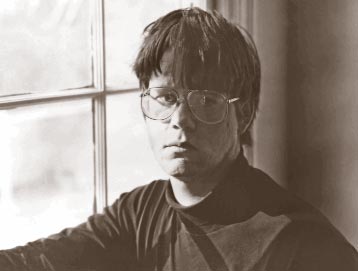 With You Bright and Risen Angels  and The Rainbow Stories  published in 1989, Vollmann was compared to Thomas Pynchon and William Faulkner, though Lautréamont seems a better choice.
Vollmann's books include Whores for Gloria, Thirteen Stories and Thirteen Epitaphs, Butterfly Stories, The Atlas and The Royal Family. For over a decade he has been at work on "Seven Dreams", a multi-novel project to recreate the history of the North American continent. Four landscapes have been completed: The Ice T-Shirt, Fathers and Crows, The Rifles and Argall. Rising Up and Rising Down a three-volume essay on violence awaits publication.
William T. Vollmann lives in Sacramento, California.