Václav Jamek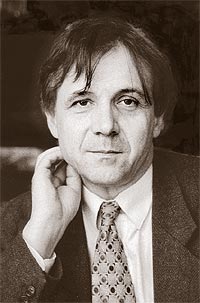 Václav Jamek was born in 1949 in Kladno, Czechoslovakia. He was primarily known as an editor and translator of French literature - Ségalen, Perec, Tournier, Modiano, Bove, Michaux - until his prize-winning essay Traité des courtes merveilles finally appeared after the Velvet Revolution. In 1994, he joined the diplomatic service, spending four years as cultural counsellor in Paris.
"The bilingual split in his work is augmented by the fragmentation of other curious dichotomies, in which a certain kind of existentialism, as manifested in his poetry Raw State,  prose and essays Unmotherly Muse, iscounterpoised by a vacantly inexistentalist, derangedly facetious line of writing, represented by the fictional "poet of the dazzling lowlands" Eberhardt Hauptbahnhof's titles Uncompleted Calendar  and A Book of Poems Reversified, as well as the theatre play O Chewing Head and another French work Férules fêlures ou Le Maître asceptrisé, par Cyanure de Bergeries, Désagrégé ès Lettres."
Jamek's most recent writings include On Propriety in Language and On that Scurvy Crew, a study on the literary expression of the homosexual sensibility.
Václav Jamek lives in Prague.