John Calder
John Calder, born in Montreal  in 1927, has literally carried authors on his back for the past fifty years as the most prominent champion of literature in the British Isles. He founded his publishing house in London in the late forties and has published almost fifteen hundred books – a list that includes twenty Nobel Prize Winners and the nouveaux romanciers.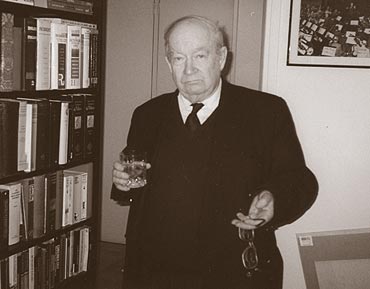 Henry Miller, William S. Burroughs, Antonin Artaud, Louis-Ferdinand Céline, Marguerite Duras, Nathalie Sarraute, Claude Simone, Alain Robbe-Grillet and Samuel Beckett were first seen on the many Calder dust wrappers flickering round Soho.
In Defense of Literature a book essays celebrating Calder's fifty years in publishing coincided with the publication of What's Wrong, What's Right? his first collection of poetry in 1999. The Philosophy of Samuel Beckett a study of his friend and author and Pursuit an autobiography appeared last year. The Garden of Eros  awaits publication.
John Calder lives in Paris.