Christopher Logue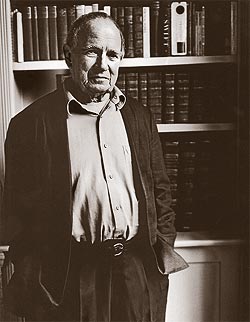 Christopher Logue was born in 1926 in Southsea, England. In 1945, he served as a private in the Black Watch and spent sixteen months in an army prison in Palestine for dealing in stolen identity cards. "I had never been in a fight. I could not bear to go to the lavatory in public."
In 1951, he went to Paris for five years where he worked on the literary journal Merlin with Alexander Trocchi, published Wand and Quadrant  his first volume of poetry,and Lust  a pornographic novel for the Olympia Press.
For more than forty years Logue has been engaged intermittently on War Music, an idiosyncratic account of Homer's Iliad. When the first fragment of War Music appeared in 1962, Henry Miller wrote to Lawrence Durrell: "If only Homer were anywhere near as good."
Logue's Selected Poems, and Prince Charming memoirs were published in 1999. War Music an account of Books 1—4 and 16—19 of the Iliad appeared last year. All Day Permanent Red a depiction of the first battle scenes in the Iliad awaits publication.
Christopher Logue lives in London.